Order of DeMolay

The Order of DeMolay is the world's largest fraternity for young men ages 13-21 and 12, if completed grade 7. Started in 1919, DeMolay has over 700 chapters in the United States and chapters in 11 foreign countries. DeMolay provides young men with a place to have fun, experience fellowship, and learn and practice leadership skills.
It creates an environment for young men conducive to growing, maturing, and developing into caring and contributing members of society. DeMolay accomplishes all these things for young men while teaching them seven basic principles. These include love for parents, respect for religious beliefs and opinions of others, courtesy, friendship, faithfulness, cleanliness, and patriotism.
There is no hazing. Men such as John Wayne, Walt Disney, Walter Cronkite, Paul Harvey, Buddy Ebsen, and football great Fran Tarkenton have participated in the ceremonies of DeMolay and learned from their participation in this order. All volunteers and workers are screened. They participate in training programs to ensure quality leadership and supervision for the young men of DeMolay.
Frequently Asked Questions
Is DeMolay a religious group?
No, DeMolay is not a religious group. DeMolay teaches no religion but expects each member to profess a belief in a Supreme Being and be tolerant in their opinion of others.
What is a fraternity?
A fraternity is an organization whose members have a special bond with one another regardless of age or position. It is a brotherhood built on common interests.
Is DeMolay a secret fraternity?
We are not a secret fraternity. Therefore, we hold no secrets from non-members about our type of organization, our purposes, activities, and beliefs.
What are your secrets?
The only things someone might consider secret about DeMolay are our passwords, signs, and handshakes. This is our way, like all fraternities, to make being a member really special.
What does the name DeMolay come from?
Jacques DeMolay lived around the 14th century in France. During the time of the great Crusades, he was the last Grand Master of the Knights Templar, the fraternity of Crusaders in France. He was a Knight and leader of men who stood up for the less fortunate. He was true and faithful to his cause and friends until his death.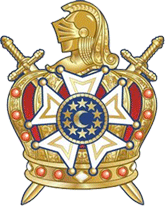 Order of DeMolay Contact Form
Use this form to contact us for more information about Order of DeMolay